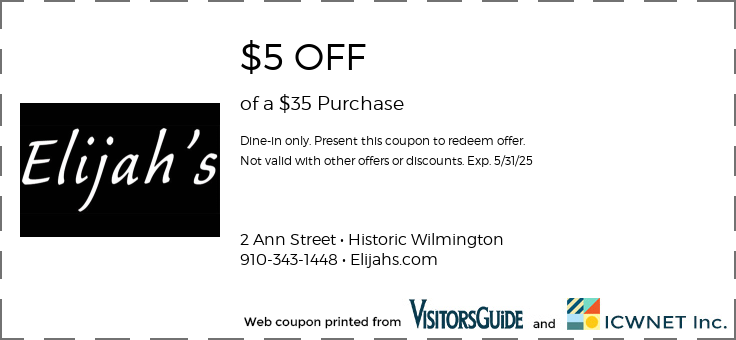 print
Casual American Grill and Oyster Bar
Located on the banks of the Cape Fear River in Historic Downtown Wilmington, NC. Since 1984, Elijah's Restaurant has been Wilmington, North Carolina's premier outdoor fine dining destination. We feature expansive indoor and outdoor waterfront dining, with panoramic views of the best sunsets Wilmington has to offer.
There's nothing like enjoying a stunning waterfront view, and Elijah's Restaurant has a prime location along the Cape Fear River on the edge of Wilmington's historic downtown. Featuring both indoor and seasonal outdoor tables, this little eatery will charm visitors with the natural setting, and will entice patrons to linger with a seafood-heavy but all-encompassing menu.
Open for lunch and dinner, the menus at Elijah's Restaurant are divided up into starts, soups & salads, specialties, sandwiches, seafood, pasta, raw bar, entrees, and other fare. It's a big variety to be sure, and patrons of all palettes are guaranteed to find a dish or two that grabs their attention.
On the lighter side, diners will find options like crab stuffed mushrooms, buffalo shrimp, and Carolina chowder, while hungrier patrons can dive into big platters of crab cakes, fish and chips, or a mixed grill of seafood specialties.
There's also a nice selection of seafood or meat-based sandwiches and burgers, like a crab cake on English mushroom and a barbecue chicken BLT, as well as some Italian inspired specialties, like stuffed chicken Marsala and blackened Mahi on linguine. Able to appease appetites and cravings of all varieties, Elijah's Restaurant is a crowd-pleasing destination for a meal with a completely decadent on-the-water view.
Celebrations, Great Meals, and Incredible Scenery

OUR HISTORY
The Property that is now Chandler's Wharf, (which is home to Elijah's Restaurant and The Pilot House Restaurants), was originally owned by Colonel F.W. Kerchner. Kerchner was born in Germany in 1829 and later moved to Baltimore, Maryland. Col. Kerchner was in command of the company that affected the capture of John Brown and his group following the raid on the Harper 2019s Ferry Armory. Coincidentally, Kerchner's immediate superior during this historic confrontation was Lt. Col., (soon to be General), Robert E. Lee. After the Civil War, Kerchner made his way to Wilmington and made his residence at the Governor Dudley Mansion, located at the corner of Front and Nun Streets.
The warehouses and docks that he and his business partners operated here for the remainder of the 19th century dealt with a variety of goods, but the bulk of the products were tar, pitch, and turpentine. These products were extremely important in the operation of the wooden ships used during that time. Unfortunately, turpentine was also extremely flammable which likely led to a serious fire that occurred here in September of 1874, and caused over $120,000 in damage.
Following the death of Col. Kerchner in 1910, the property went through numerous owners until it was purchased by Mr. and Mrs. Thomas Wright Jr. in 1977. The first restaurant on the property was the Pilot House which opened in 1978. In 1984 Elijah's Restaurant, which had previously been a maritime museum, opened its doors. Many of the rare paintings, ship models, and nautical artifacts remain on display in the restaurant.
In 1988 Elijah's Restaurant had grown so busy that they needed to expand which resulted in the building of the Oyster Bar and its outdoor deck, and several years later we opened up our dock seating.
We look forward to serving you, not only with good food and service, but also a piece of history.
Elijah's is Open 7 days a Week!
Mon - Thurs 11:30 am – 9:00 pm
Friday - 11:30 am – 10:00 pm
Saturday - 11:30 am – 10:00 pm
Sunday - 11:30 am – 9:00 pm