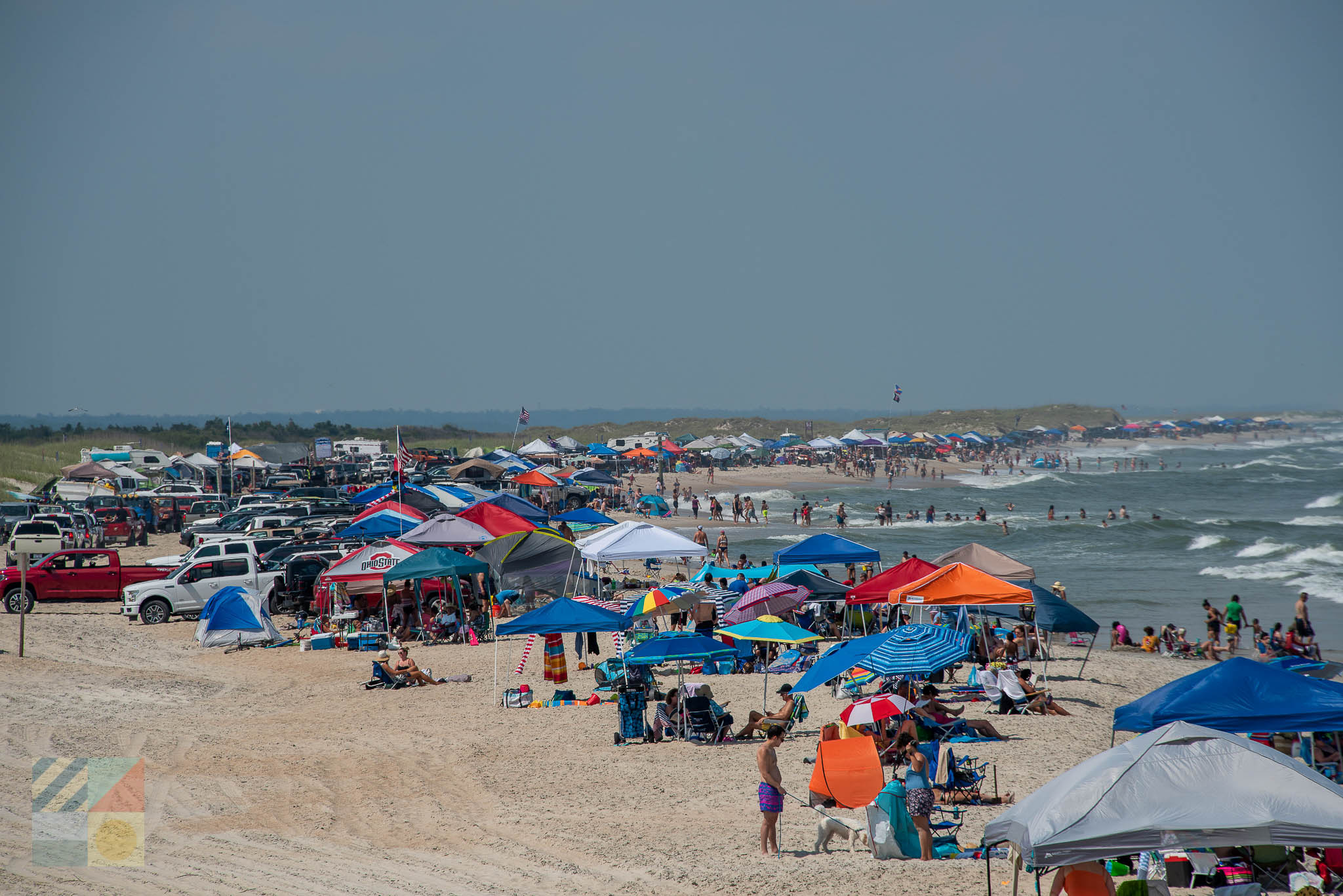 The northernmost coastal region of Carolina Beach is home to the Freeman Park Recreation Area, a stretch of shoreline that is well known to adventurous, beach-loving 4WD truck owners. Unlike other stretches of the barrier islands off the coast of Wilmington, this park is special because it is completely undeveloped, and allows beach driving to off-roaders who like to cruise along the sand.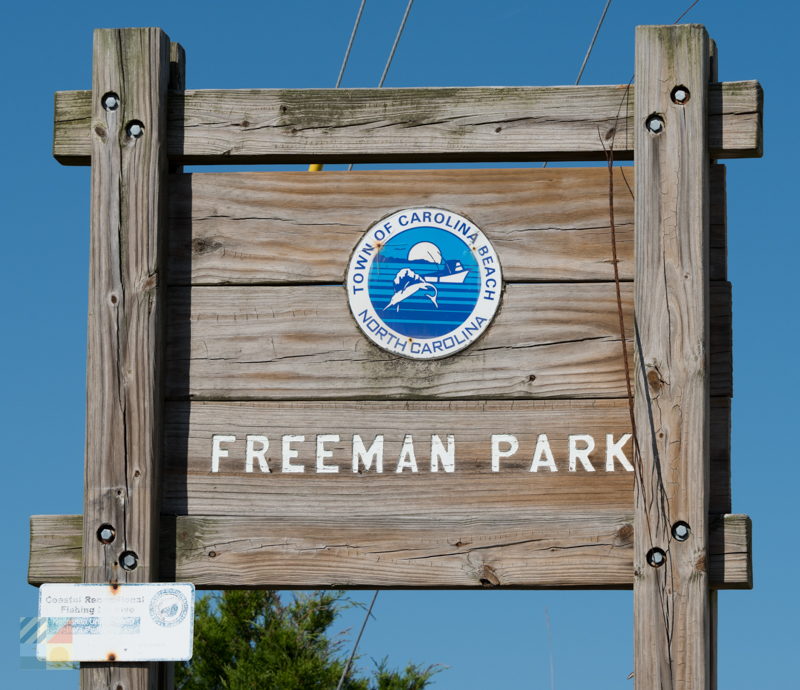 Though somewhat crowded in the summertime, virtually every vehicle can find a spot, and wintertime visitors will often find they have the entire shoreline nearly all to themselves. Fun, scenic, and a well-known refuge for surf fishermen and beach bums alike, the Freeman Park Recreation Area is one of Carolina Beaches' favorite oceanside destinations.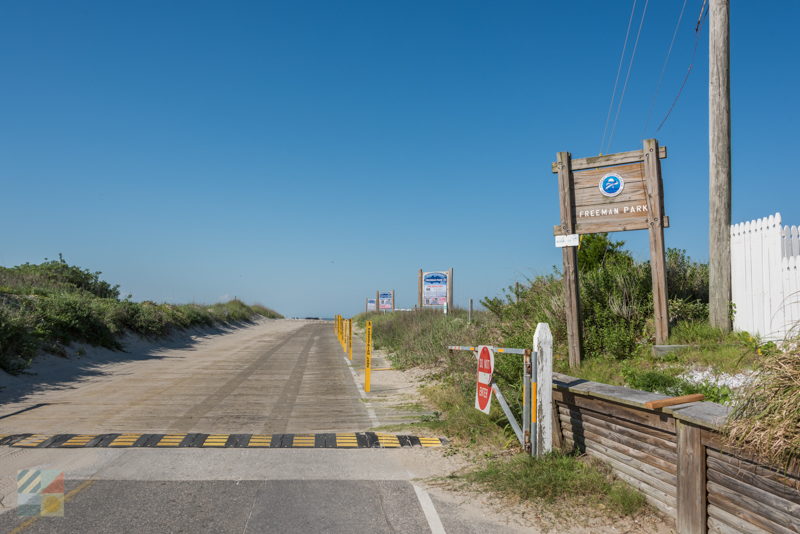 The recreation area extends for two miles along the Atlantic Oceanfront, from the northern town borders all the way to Carolina Beach Inlet, (which separates Carolina Beach from Masonboro Island.)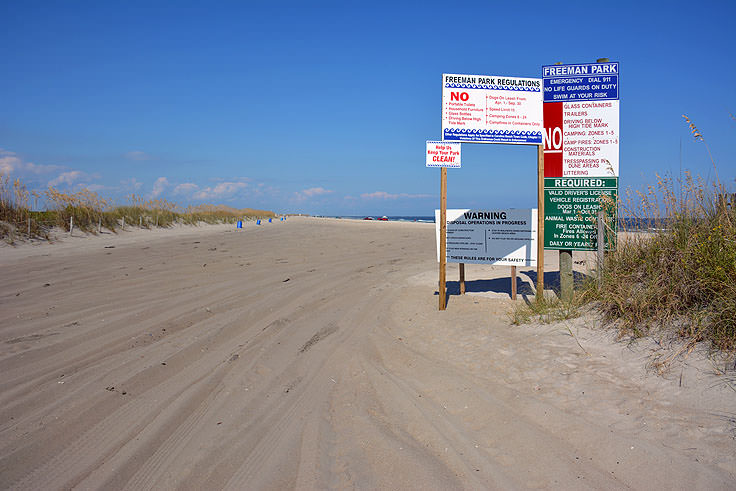 We've put together a short list of recommended items to get unstuck and stay safe. We like these linked products, but we took care to make sure they are also highly-rated by many customers. Some of the product links include Amazon affiliate codes. *If a purchase is made, we are paid a commission for the referral.
Vehicles are allowed to park on the sand along any area of the beach, and visitors on foot or bicycle are certainly welcome to enter the park as well, and enjoy a long hike to the gorgeous inlet waterfront. The inlet, in fact, is an especially popular stretch of beach for both fishermen and shell collectors alike, as the wide inlet-facing beaches are often home to a number of large saltwater species, including blues, spot, croakers, sea mullet and even drums, as well as small, but perfectly intact seashells.For either enterprise, visitors are advised to visit the beaches early, or in the shoulder season fall and spring months, to score the best finds and enjoy plenty of elbow room.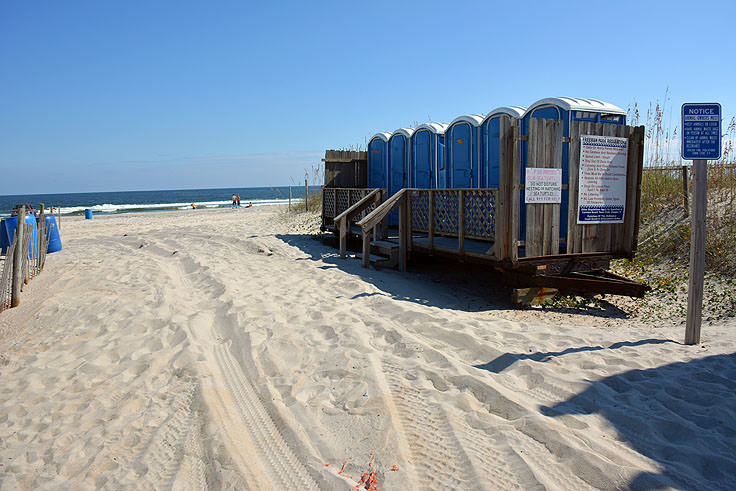 While this parcel of Carolina Beach is completely undeveloped, it can be crowded in the summertime, and visitors who like plenty of extra space to enjoy the views are advised to visit early, in the evening, or in the off-season months when the beach is delightfully deserted. Vehicular visitors are advised not to drive through or park by the ocean wash, or any region (especially near the inlet) that can be submerged as the tide comes in. Saltwater damage or flooding is devastating to a vehicle, and parking above the high tide line ensures that a day at the beach doesn't turn into an expensive tow, or even worse, a very expensive total vehicle replacement.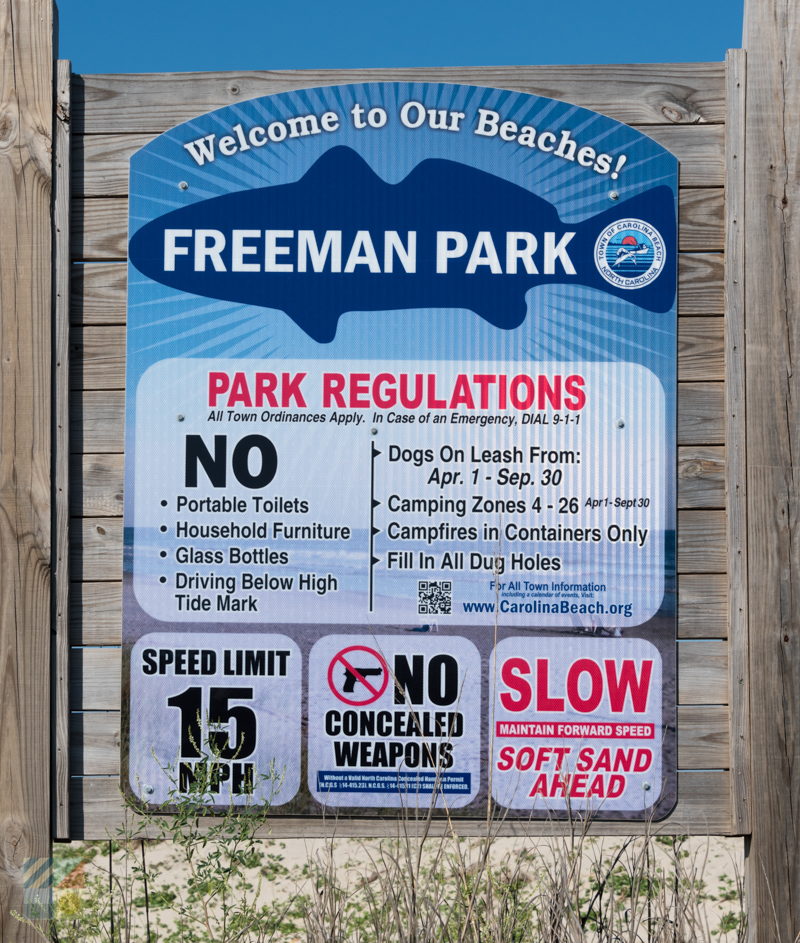 While the beaches have been flattened down by plenty of use, and as such are very easy to navigate, drivers are still advised to slack down their tires to 20 psi, and ensure their truck has plenty of clearance in case of encounters with deep, soft sand. A vehicle also absolutely must have 4WD to access the beach.
While trailers are prohibited, overnight camping is allowed (with permit in designated, reserved campsites) in the Freeman Park Recreation Area past Mile Marker Post 6 between Labor Day and the Thursday before Memorial Day each year. No Summer camping is allowed. Campfires are also allowed with some restrictions. Reservations are on a first come/first service basis. During this period, there is a fee for a campsite permit. You must make reservations to camp. Reservations can be made by calling 1-866-330-7275 or online at freemanparkcamping.pmreserve.com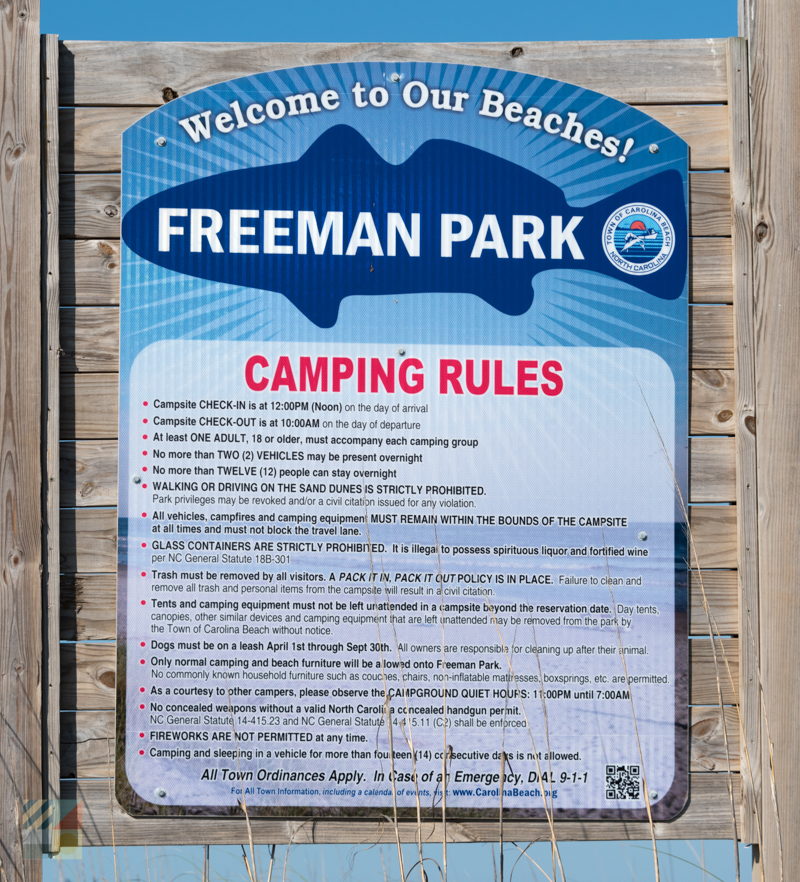 Most important, a permit must be purchased to access the Freeman Park Recreation Area via a 4WD vehicle, and permits are available as daily, weekly, or annual passes. A daily pass runs roughly $30-$50 and can be purchased at the park's main entrance, however frequent visitors who make several trips per year to Freeman Park should pick up an annual pass (see below).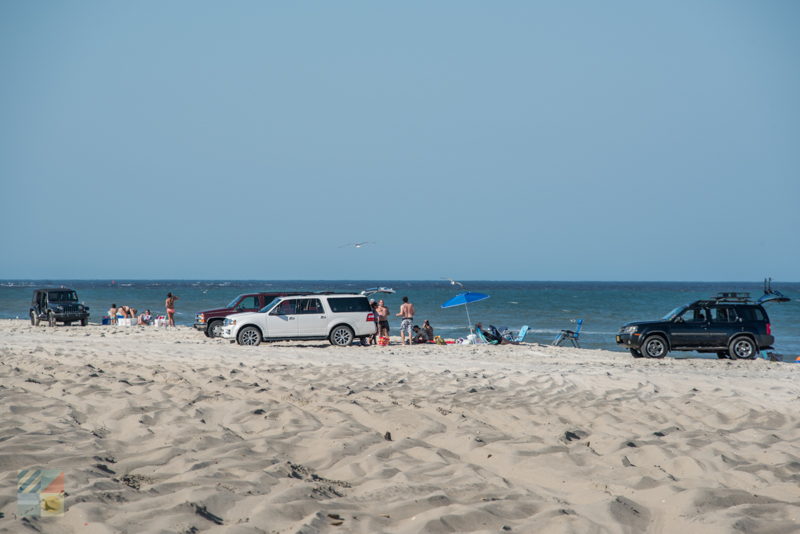 Permits and Passes
Freeman Park Season Passes are available for sale in person at Town of Carolina Beach Parking Office located at 1708 Canal Drive, Carolina Beach, NC 28428, Carolina Beach Town Hall 1121 N. Lake Park Blvd. Carolina Beach, NC 28428, and Island Tackle True Value located at 801 N. Lake Park Blvd. Carolina Beach, NC 28428. Passes may also be purchased online.

A driver's license is not needed to purchase the season pass. Name, address, email address, phone number, make, model, color, and license plate number of the vehicle is needed.
Daily Passes are available for purchase ONLY at the kiosk at the entrance of Freeman Park.
Though the permit application initially may sway some people away from beach driving, the process is honestly a minor inconvenience at best, and the rewards are well worth the trouble. With stunning sunsets over the inlet, fantastic wide beaches, decent waves for ocean kayaking or surfing, renowned fishing, and solid beachcombing, Freeman Park Recreation Area is the epitome of what a good southern North Carolina beach should be. Grab all the beach gear your vehicle can hold, (no manual hauling to the beach required after all), and take the family out for a spin at one of Carolina Beaches' most unique, and beloved stretched of shoreline.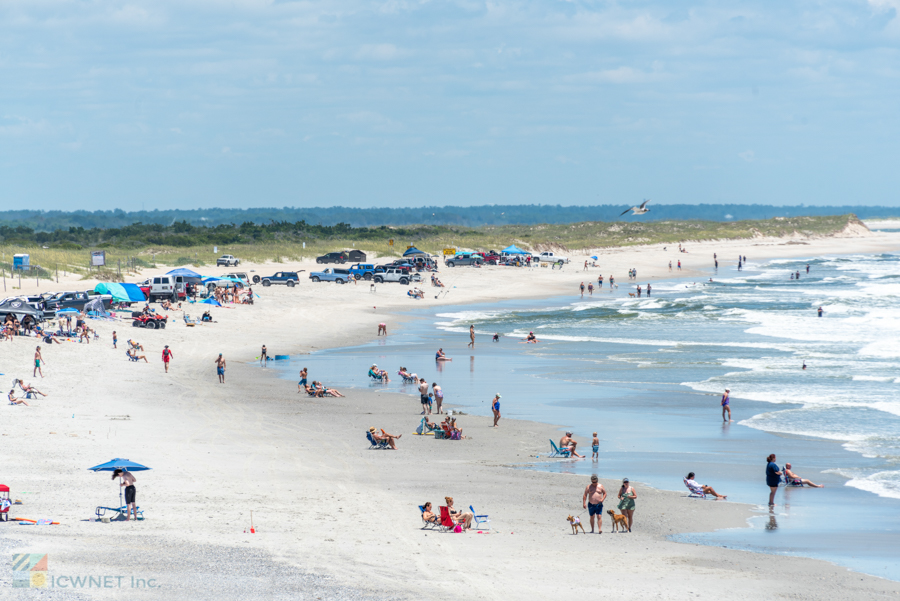 Is this your business? Update your listing by messaging us